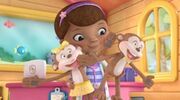 THIS ARTICLE IS LACKING AN IMAGE, PLEASE ADD ONE IF YOU CAN!
Ben and Anna are twin monkey hug toys. In their main episode, "Ben/Anna Split" Ben had gotten hurt when his sticky pad on his one paw fell off. Doc managed to easily help out but Ben was not allowed to hug or do anything while his paw was healing. Doc had also made sure that Anna stayed out of the patients room in order to make sure he didn't do anything to mess up his paw.
Personality
Edit
Ben and Anna are very playful monkeys who love to hug, dance, and sing! Due to being such close siblings, they are never-ever seperate. As shown during their episode, it really seemed to make the both of them sad whenever they had to seperate for the evening though.
Besides being huggers, they are also well known for their dancing. Which is what they usually do upon meeting someone new, or just performing for others.
Appearance
Edit
Ben and Anna are monkey's with chocolate brown fur and pale tan faces and tummies. They have dark eyebrows and big smiles, along with a few freckles! They have sticky small pads on each hand, allowing them to stuck to one-another and hug. Their arms, legs, and tails are pretty long.
Ben wears a plain yellow bowtie while Anna has a small yellow bow on her head and a yellow skirt. She also wears red lipstick and pale blush.
Ben and Anna's name combined is based from the word "Banana". Which is a favorite snack of monkies!
Ben and Anna are much like the old-style Mickey and Minnie Mouse. Anna even dresses like Minnie Mouse.